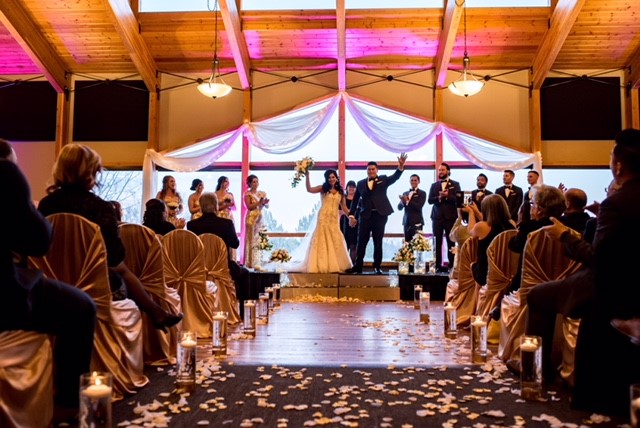 How to make the most money at your wedding social- July 18th, 2018

Engaged? Starting to think about planning your social and don't know where to start?
I originally wrote this blog post a year ago for St. Boniface Golf Club. This blog post has generated so much traffic that I decided to re-vamp it, and re-post it. Enjoy!!
The main reason that I am writing this blog to help you on your social day is because most people don't hire a planner to help with the social... and trust me, you will appreciate the help!
Venue
First, you are going to need a social venue. Be realistic about how many people you will be expecting to your social and book an appropriate size hall. If you have a small social circle, choose a hall with a maximum capacity of 300. If you have a large social circle, and huge families, go all out and book a hall with a capacity of 600! Remember that the bigger the hall, the bigger the price tag, so if you can't fill the space, don't pay for it.
Here is a list of social halls, with capacities to get your planning ball rolling.
1) Heather Curling Club
600 maximum capacity/ $3300 rental fee
2) Crescentwood Social Hall
340 capacity/ $730 rental fee
3) Glenwood Community Center
347 capacity/ $1485 rental fee
4) Dakota Community Center
374 capacity/ $1695 rental fee
5) Casa Romana
330 capacity/ $750 rental fee
Please note: There are hundreds of social halls, community centers and large venues available for rent in the city. None of the venues listed on this blog paid to be in this blog, these are simply varying prices, varying capacities, and varying parts of the city.
Music
Once you have the venue secured, you will need music and entertainment. Most times the DJ that you choose, will include a printed banner, or your social tickets.
Here are a few different DJ options in the city. Remember to book early, and to complete a contract and give the company a deposit to secure the date. I have heard too many horror stories of DJ's not showing up, due to double bookings!
3) Serino Sound
Once again, please note that these companies are in no specific order, and they vary in price.
Tickets
If your DJ doesn't include social tickets, consider Vistaprint.. They often offer business card promotions at a rate of $9.99 for 500. Use promo codes like "thanks20" or "save50" for additional discounts. There are a ton of free promo codes available online.
When ordering your social tickets, remember that not everyone that purchases a ticket will be in attendance. Consider printing and selling about 100 tickets over and above your maximum capacity. You can also print "support tickets" for guests that know they are not coming. They tickets are non-admission tickets but still support your wedding day.
The tickets should be priced between $10-$20 each. Keeping in mind that if you are selling your tickets at $20 apiece, there should be an added incentive to attend your social, over everyone else's that is priced at $10. (IE: Theme decor, crazy awesome prizes, games, large food buffet, cheap drinks, etc...)
Let's break this down to see how many tickets you would need to sell to cover the cost of your social hall. If for example, you chose the Dakota Community Center, at a rate of $1695. Selling 100 tickets over maximum capacity means you would sell 474 tickets. If you can sell that many, fantastic, if you can't don't get discouraged a lot of people bring unexpected friends to the social!
Tickets at a rate of $10 each: 474 x $10 = $4740.00
Tickets at a rate of $15 each: 474 x $15= $7110.00
Tickets at a rate of $20 each; 474 x $20= $9480.00
Heather Curling Club:
Tickets at a rate of $10 each: 700 x $10 = $7000.00
Tickets at a rate of $15 each: 700 x $15 = $10,500.00
Tickets at a rate of $20 each: 700 x $20 = $14,000.00.
How do we sell that many tickets? Hand them out to your wedding party and family members, ask co-workers to buy, make a Facebook group, post an ad on Kijiji, accept e-transfers, offer city wide delivery. Make it easy, people love easy!
Prizes
Now let's talk prizes!
Prizes are the reason people attend socials! So many businesses don't offer social prizes anymore, which means you would need to purchase the prizes out of pocket for the most part. Hit up your connections, do you know a travel agent? Ask for a donation! Do you know someone who owns a restaurant? Ask for a donation!
If you are purchasing prizes on your own, look for boxing day deals, end of season sales, etc... Consider using airmiles or reward points to purchase gift cards for larger prizes.
You may also want to consider a cash back Visa or Mastercard for all of your social purchases, a bit of added incentive to buy those prizes early!
Asking the wedding party to purchase a large prize together, or to canvas for donations. Don't feel bad asking them- the point of a social is to make money. I am also going to guess that at some point you put out hundreds of dollars paying for someone else's social prize too.
Purchase your silent auction tickets from Party Stuff or Bazaar. Take the time to make up bundles and sell in bundles! Consider a $20, $40 or $60 pack.
Here are a few examples of the bundles that you could make up:
Imagine if every person that attends your social buys a $20 pack, which most people will buy bigger than that, and you have 400 people, you make $8000.00 alone off prizes.
(Remember that the number of sheets/grand prize tickets should correlate with the numbers of prize packs you have.)
Keep in mind that the LGA has some strict rules about prizes. Brush up on their regulations before you start putting together your prizes.
Here are a few things to keep in mind:
Your social occasion raffle licence allows you to hold your raffle with the following requirements:
·The amount or value of each prize awarded must not exceed $500.
·Each ticket must not be sold for more than $2.
·Revenue from each draw must not exceed $10,000.
·The raffle must be held at a one-time social event at a public place of amusement.
·All ticket sales, draws and prize awards must take place at the event.
·Cannabis cannot be given as a prize
If you don't have an ATM in your venue, consider renting a square reader to accept debit or credit payments. Another option is having e-transfer available at the ticket station.
Now let's talk crazy big prizes!
Consider giving away a vacation as a grand prize. This is a huge money maker. When I helped my sister plan her social, this was one of the biggest sources of revenue.
Nowadays, people want simple. They want easy. Don't give a travel voucher that will make them think about where they want to go, and when, and with who. Give them a pre-packaged vacation!
Consider giving away a trip for two (airfare, hotel and a small amount of spending money) to Vegas, or an all-inclusive vacation for two to Cuba.
Check out the following sites on purchasing a vacation and let them know you are buying it as a giveaway. In most cases, the winner can change the travel dates for a nominal fee.
2) Vegas.com
4) Sunwing
When giving away a vacation, make this a separate draw from your regular and grand prize draws. Sell individual tickets and sell a limited amount. For example, if your highest price ticket bundle is $60, as seen above, and you want to sell the vacation get-a-way tickets at a rate of $25 per, create an $85 bundle, that includes one golden ticket and tons of extra tickets.
If you limit the number of tickets available to purchase, it forces the guests to arrive early, spend more money at the bar, enjoy the entertainment, and increases their chances of winning. If your maximum capacity for the social is 400, consider only having 200 available. This pays for itself! (Keep in mind the LGA regulations when offering a large prize such as this.)
You may also want to have a 50/50 draw, selling tickets at arm's length, or wing span for $5-$10. This allows people that don't want to spend $20 on prize tickets to still have an opportunity to win something and spend money at the social in other ways.
Bar info
Now let's talk about the bar. You will need an LGA permit, and a responsible person throughout the night. Consider selling your drink tickets at a rate of $3.00 or $4.00 per, to avoid needing to carry quarters around.
Assume that each one of your guests will consume 4-5 drinks each. You can always return additional products.
If you sell your tickets at $3.00 each, and each one of your guests purchases 5, (with a guest list of 400), you would make $6000.00.
If you sell your tickets at $4.00 each, and each one of your guests purchases 5, (with a guest list of 400), you would make $8000.00.
Consider connecting with a local brewery to get a prize donation for exclusively using their products. A few breweries that have been known to do this are Fort Garry, Farmery, Little Brown Jug and Labatt.
Food
Now let's get to the most delicious part, The food.
Depending on what your social hall includes, you may be responsible for mix, or at the minimum Clamato, juice, cups, plates, etc... Over buy, you can return what you use. Costco will be the best bang for your buck in this case, and it will cost around $500. Consider buying Munchie Mix or Cheetos for all the tables.
For the food portion, you have a few options; ordering pizza might be easiest. Call Pizza Hotline, and they offer corporate rates, and they will cut them into little squares.
If you are looking to get the usual meat platters, cheese, veggies, pickles, etc... try these options:
Check the rules with your social hall and see if you can bring in your own treats. Have the bridal party make cupcakes or set out bowls of candy. People love snacking. Hungry people are angry people.
Consider having a coffee station for guests that don't drink, or people that need to stay awake!
The last most commonly overlooked items are a float (minimum $600 in change to pass around) and cash boxes.
You may also need signage around the community center or social hall to direct people to the prizes, the bar, etc... Poster boards from Dollarama do the trick.
If you are looking at getting corsages or any type of small flowers, check out Timeless, they will be the most cost effective in the city.
Being organized ahead of time with a schedule for your wedding party will save you major headaches down the road.
Set up a one hour schedule every hour from 8pm-1am at the door, at the bar (likely 2 bartenders, unless your social hall includes bartenders), selling 50/50 tickets, keeping a look out on prizes, and clean up (unless your social hall includes the clean up as well.)
You may also need to look at hiring security, unless your hall includes that too!
To wrap up the longest blog post ever, have fun, make money! Depending on the size of your wedding, and the number of prizes you receive, you can make anywhere from $1000-$35,000.00 profit. While we all know that planning a social is about making money, you also need to take time to appreciate all the guests that came to support you and give you their hard-earned money. Don't forget to do a thank-you speech!
If you need some help planning your social or your wedding, please feel free to contact us!
Happy Planning!
-Tricia